Transnational workshop: ERP System Interoperability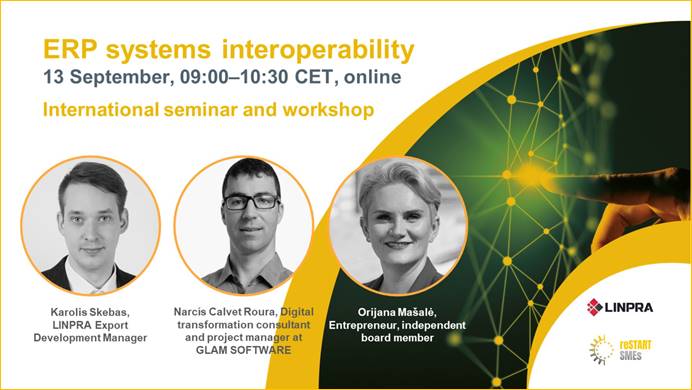 Manufacturing SMEs are invited to an international workshop to discuss technological challenges and solutions in the field of ERP systems interoperability. An interactive online event will offer:
Key-note presentation by an expert guest speaker – experienced software engineer and project manager at software industry;
Roundtable group session of knowledge, experience and best practice exchange between participants, sharing know-how to transform business model and improve sustainability.
Topic: ERP systems interoperability
Digital transformation with special emphasis on ERP software and how it can help manufacturing companies achieve their strategic goals.
Agenda (CET):
09:00–09:10 Project introduction: Karolis Skebas, LINPRA Export Development Manager
ReStart SMEs: Facilitating collaborations for the adoption of Industry 5.0 new technologies for business owners
09:10–09:50 Key-note presentation: Narcís Calvet Roura, Digital transformation consultant and project manager at GLAM SOFTWARE 
ERP systems interoperability
09:50–10:20 Roundtable group session, moderated by: Orijana Mašalė, Entrepreneur, independent board member
Companies' introduction, Q&A, distinguishing of main challenges, lessons learned or success stories in the field of ERP
10:20–10:30 Wrap up, END of workshop 
More information HERE.