Reliable, low-latency wireless communication in challenging environments free online workshop

On Tuesday, 27th June 2023, a workshop will take place at the iGent Tower in Technologiepark Zwijnaarde and online, focusing on the topic of reliable, low-latency wireless communication in challenging environments. This workshop aims to present and demonstrate recent technology innovations in the field, addressing the unique communication needs of production environments, complex buildings, large industrial sites, and more.
The event will bring together experts from local industry and academia to discuss and showcase advancements in wireless communication. Topics that will be covered include network quality evaluation, network planning tools, RF power transfer, standards and protocols for industrial IoT, a comparison between 5G and WiFi6, a new approach for accurate ranging with WiFi RTT, and deterministic, time-sensitive networking.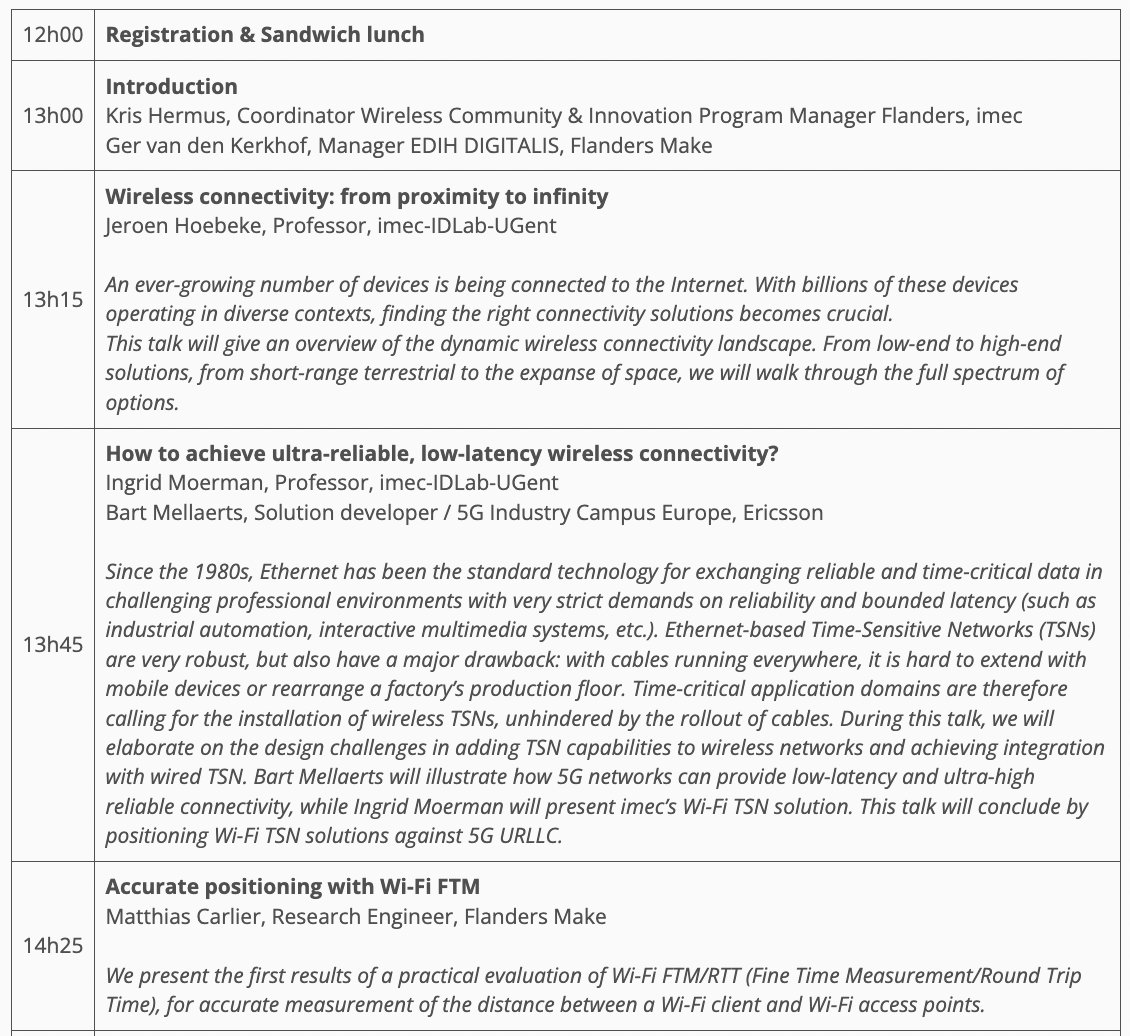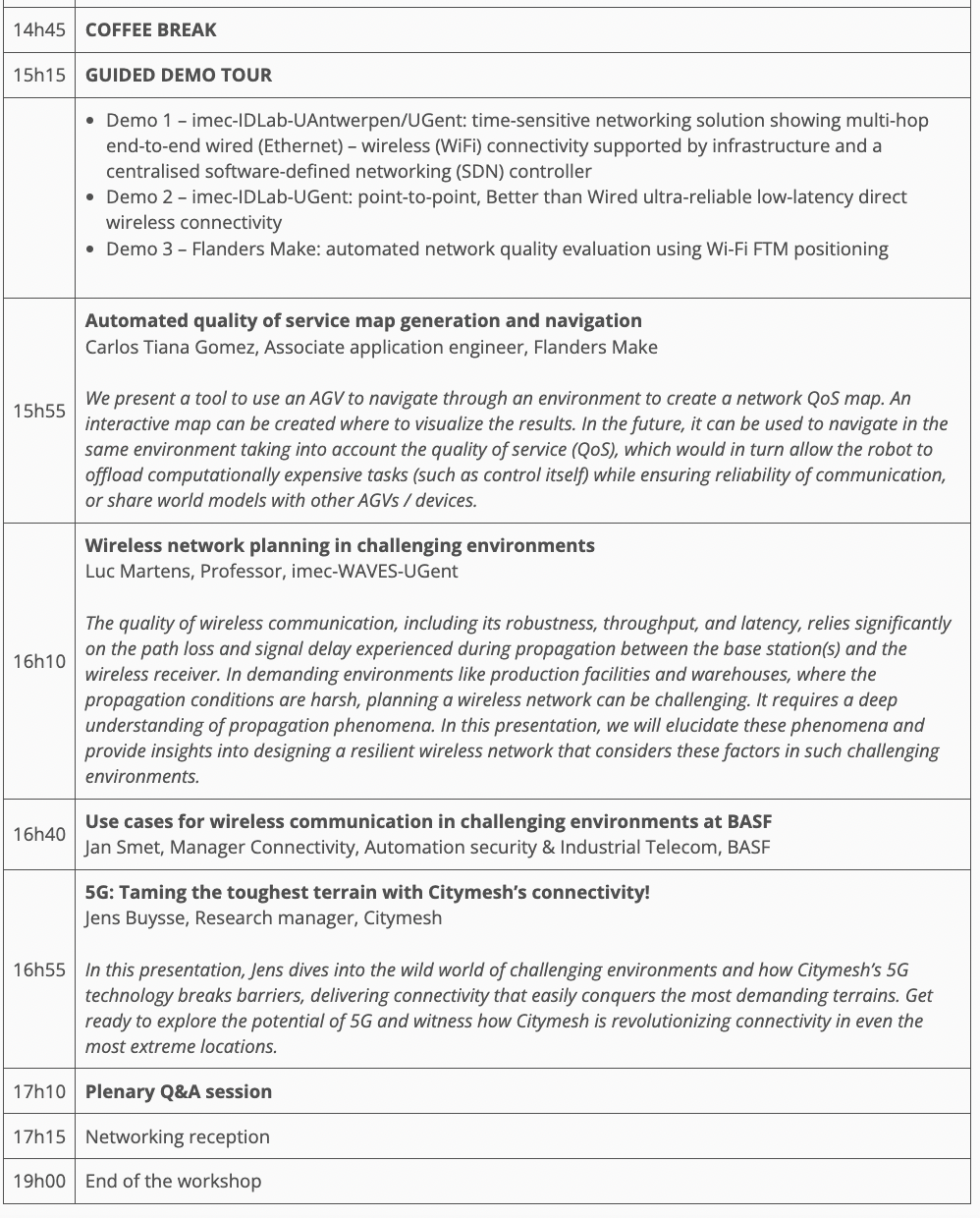 One of the key areas of discussion will be wireless connectivity. Jeroen Hoebeke, a professor from imec-IDLab-UGent, will provide an overview of the dynamic landscape of wireless connectivity, exploring options ranging from low-end to high-end solutions and from short-range terrestrial networks to long-range connections extending into space.
Achieving ultra-reliable, low-latency wireless connectivity will also be a major focus of the workshop. Ingrid Moerman, a professor from imec-IDLab-UGent, and Bart Mellaerts, a solution developer and representative from Ericsson, will delve into the challenges of integrating Time-Sensitive Networking (TSN) capabilities into wireless networks and compare Wi-Fi TSN solutions with 5G URLLC.
Accurate positioning using Wi-Fi FTM/RTT will be demonstrated by Matthias Carlier, a research engineer from Flanders Make. This technology allows for precise measurement of the distance between Wi-Fi clients and access points, offering potential applications in challenging environments.
The workshop will provide attendees with the opportunity to witness live demonstrations of various wireless communication solutions. Guided demo tours will showcase time-sensitive networking solutions, ultra-reliable low-latency direct wireless connectivity, and automated network quality evaluation using Wi-Fi FTM positioning.
In addition to these technical sessions, the event will feature presentations on automated quality of service map generation and navigation, as well as wireless network planning in challenging environments. Attendees will gain insights into tools and approaches for designing resilient wireless networks and understanding propagation phenomena in demanding environments.
To provide practical industry perspectives, Jan Smet, Manager Connectivity, Automation Security & Industrial Telecom at BASF, will share use cases for wireless communication in challenging environments. Jens Buysse, Research Manager at Citymesh, will present how Citymesh's 5G technology is revolutionizing connectivity in extreme locations.
The workshop will be a valuable platform for networking, knowledge exchange, and learning from experts actively involved in the wireless communication field. Whether you are an industry professional, researcher, or enthusiast, this event offers a unique opportunity to explore the latest advancements in reliable, low-latency wireless communication and their applications in challenging environments.