reSTART SMEs + START projects Peer Review meeting
September 28, 2022 @ 09:00

-

12:00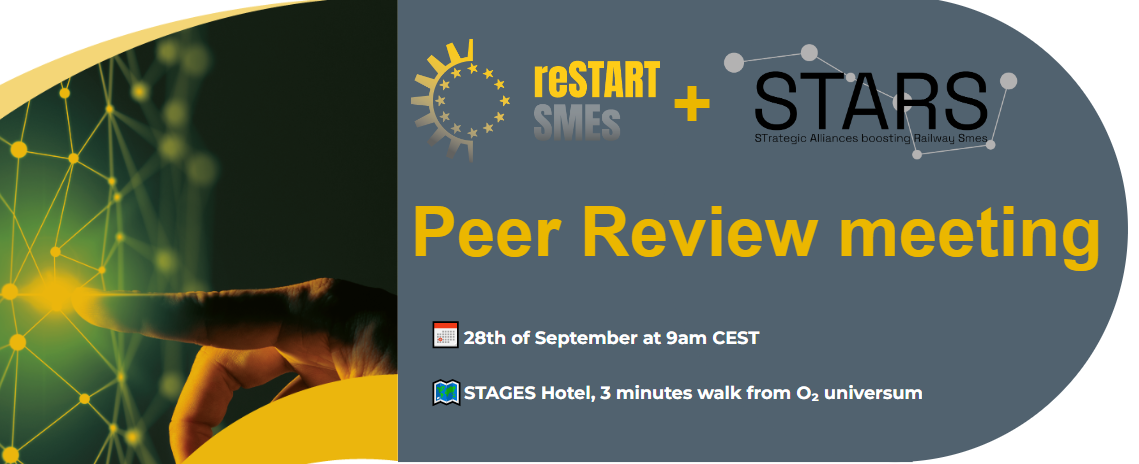 ReSTART SMEs and STARS projects (funded under COSME call) are organising a Peer Review meeting, a session to promote all key actors involved in the process to share experiences, learnings and results obtained one year after the start of the projects.
The ReStartSMEs project consortium is composed by European Clusters, technology providers and a Community of European tech Innovators. The project aims to build resilience of traditional manufacturing SMEs in automotive, machinery & equipment, food and textile by analysing their digitalization needs and facilitating the adoption of new technologies (such as AI, robotics, cybersecurity & IoT) towards the realization of Industry 5.0 concepts so to boost economy recovery.​
The STARS project consortium is composed from the major European signalling manufacturers, space industry and research centres. Their aim is to fill the gap between European Railway Traffic Management System (ERTMS) needs for safety critical Applications and Global Navigation Satellite System (GNSS) services, through a characterisation of the railway environment and of GNSS performances assessment in that environment. The application of GNSS in ERTMS shall lead to significant economic benefits through reduction of trackside equipment, reduction of maintenance, increase of availability and performance.
The session will host a roundtable discussion to collect feedback from stakeholders about specific common challenges that have been identified for both projects, focusing on SMEs involvement, highlighting the obstacles faced as well as the approaches that have proved successful.
It will be organised in the framework of the European Cluster Conference in Prague (Czech Republic). Since many clusters representatives will be already there, it will be a great opportunity for external stakeholders to assist to share their perspective and learn about:
new tools for supporting the digital transformation of traditional manufacturing companies,
approaches to engage European SMEs
innovative formats such Hackathons and matchmaking,
upskilling and reskilling of SMEs workforce and much more.
Register here: https://forms.office.com/r/nS4KtTwwxe
Date: 28th of September from 9am until 12:00noon
Location: STAGES Hotel, 3 minutes walk from O₂ universu