ReStartSMEs International Workshop – Industry 5.0 adoption and change management challenges for traditional SMEs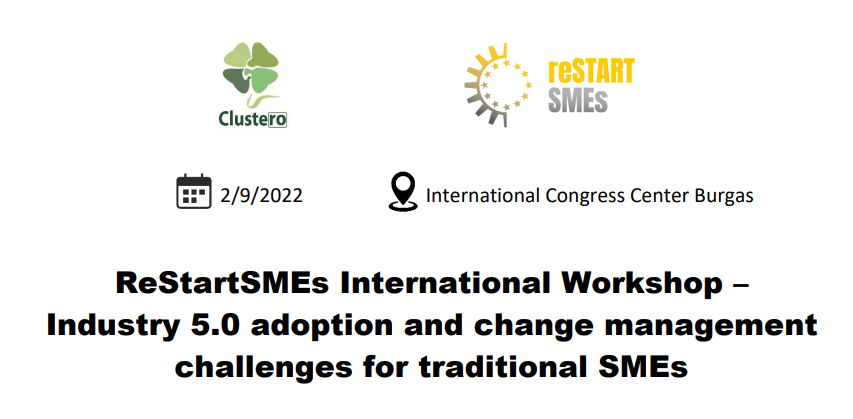 Manufacturing SMEs are invited to an international workshop to discuss Industry 5.0 adoption and change management challenges as well as to tackle basic digitalization and green manufacturing issues. The workshop is addressed to business owners and representatives, production and technology managers of local and international manufacturing SMEs in automotive, machinery and equipment, food, and textiles.
Agenda
15:30 – 15:45 Welcome & ReStartSMEs project introduction
15:45 – 16:15 Keynote presentation & Roundtable discussion – moderated session
16:15 – 16:30 Wrap-up and main conclusions
The workshop is organized as part of the European project RestartSMEs by CLUSTERO, and it will be held within The Spinoff Bulgaria Initiative Conference. The event will take place solely on-site on the premises of International Congress Center Burgas, Bulgaria. Registration for the event is available here.
Get a free assessment and find out how your SME can move towards Industry 5.0. Project experts will get back to you with a wholesome analysis of your strengths and weaknesses, and help you come up with an action plan. Evaluate your Company's Digital Maturity here.